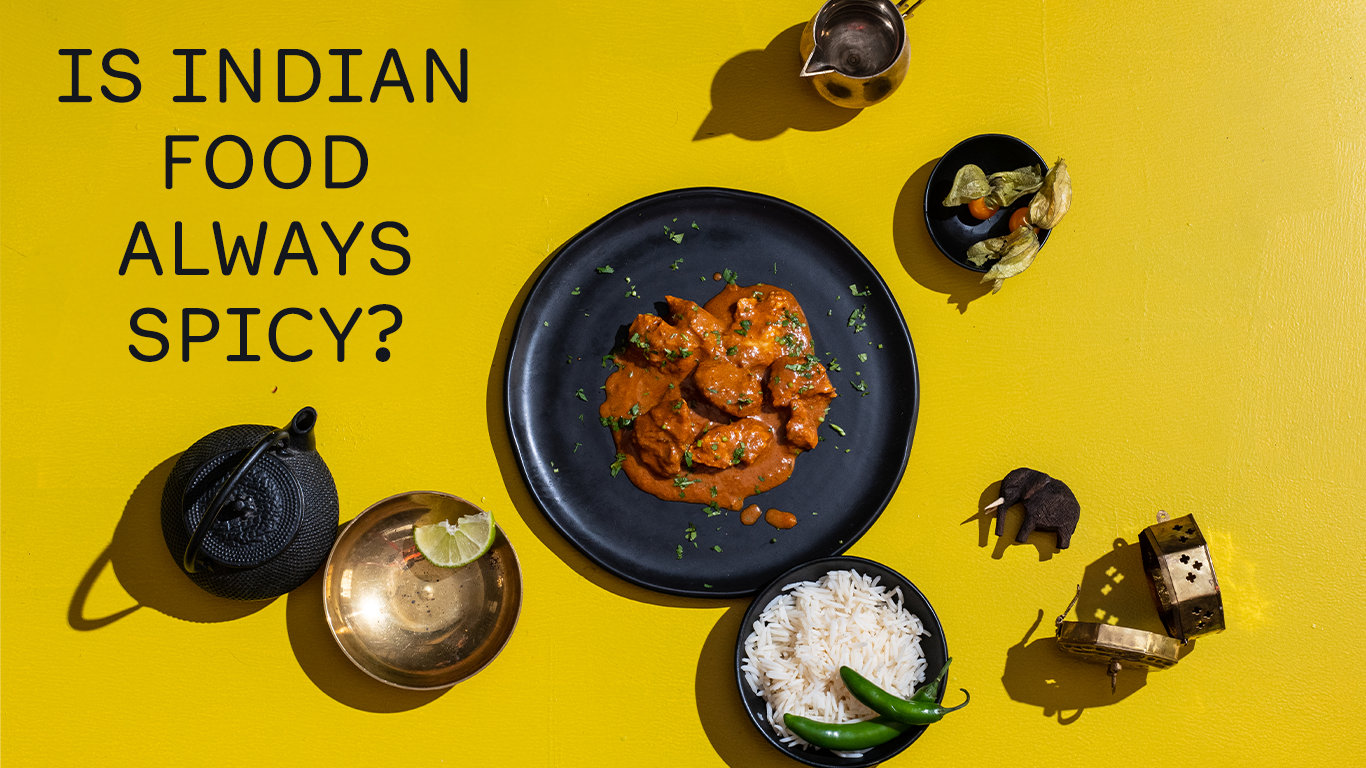 Indian cuisine is renowned for its bold flavors, aromatic spices, and vibrant culinary traditions. One common misconception about Indian food is that it is always spicy. While spices are integral to Indian cooking, it's important to understand that spiciness is just one aspect of this diverse and rich cuisine. Let's examine the intricate balance of flavors in Indian food and debunk the myth that all Indian dishes are excessively spicy.
The art of spice blending
Indian cuisine leverages an array of spices, where a delicate balance is struck to create harmonious flavors. While chili peppers are commonly used, the combination of various other spices defines the taste profile of each dish. Coriander, cumin, turmeric, cardamom, cinnamon, and cloves are just a few examples of the range of spices used in Indian cooking. Using these spices contributes to the complexity of flavors rather than solely focusing on heat.
Regional variations
Indian cuisine is incredibly diverse, with each region boasting its own distinct culinary identity. Some regions, such as Andhra Pradesh and Rajasthan, are known for their spicier dishes, while others, like Bengal and Kerala, favor milder flavors. Coastal regions often incorporate seafood and coconut, adding a unique twist to their cuisine. Exploring regional Indian cuisine unveils a spectrum of flavors, where spiciness can range from mild to fiery, catering to different taste preferences.
Customizing spice levels
One of the perks of Indian cuisine is its adaptability to individual preferences. Whether you prefer mild, medium, or hot flavors, many Indian dishes can be customized to suit your spice tolerance. Chefs and home cooks are often open to adjusting the spiciness upon request. This flexibility allows you to enjoy the vibrant flavors of Indian cuisine while finding a comfortable balance that suits your palate.
How do I make my Indian food less spicy?
If you need to tone down the spice level in your Indian food, you only need some dairy. Add yogurt or cream to take the spice level down a notch. Vegans, you can use coconut milk to make your Indian food less spicy! Learn more ways to make your Indian food less spicy in our A Guide to Indian Food Spice Level blog.
Balancing spices
Spiciness is just one element in Indian cooking, and it is balanced with other flavors such as sweetness, tanginess, and richness. Ingredients like yogurt, coconut milk, tomatoes, tamarind, and various fresh herbs are used to complement and mellow the spices, creating a well-rounded and harmonious taste profile. Indian cuisine thrives on the interplay of different tastes and textures, resulting in a delightful dining experience beyond mere heat.
Indian food and spice level
Indian cuisine offers a wide array of dishes that are inherently mild yet bursting with flavors. Creamy and aromatic dishes like Vegetable Korma, Malai Kofta, and Paneer Tikka Masala showcase the richness of Indian cuisine without always overwhelming the palette with spiciness. Biryani, a fragrant rice dish, and dosas, crispy fermented pancakes, are other examples of dishes where flavors can take center stage over heat.
Contrary to popular belief, Indian food is not always excessively spicy. While spices play a significant role in Indian cuisine, the focus is on achieving a harmonious balance of flavors rather than overwhelming heat. The diverse regional variations, the artful blending of spices, and the ability to customize spice levels allow individuals to enjoy Indian cuisine regardless of their spice preferences. So, whether you prefer mild, medium, or spicy flavors, Indian cuisine offers a tantalizing journey through a spectrum of tastes that caters to a wide range of palates.
Here's a few of Chef Bombay's specialities that you can experiment with to find your perfect spice preference level! For some of our spicier offerings, such as the famous Chicken Tikka Masala and the delicious Beef Vindaloo, you can add in some milk of your choice to bring down the spiciness. Pair Chef Bombay's popular snacks such as Mini Chicken Tikka Samosas, Vegetable Pakoras and Chole Naanpanadas with some spicy Chutneys and Dips. Here's our guide to making the most delectable, spicy Chutneys to pair with your Chef Bombay frozen snacks.