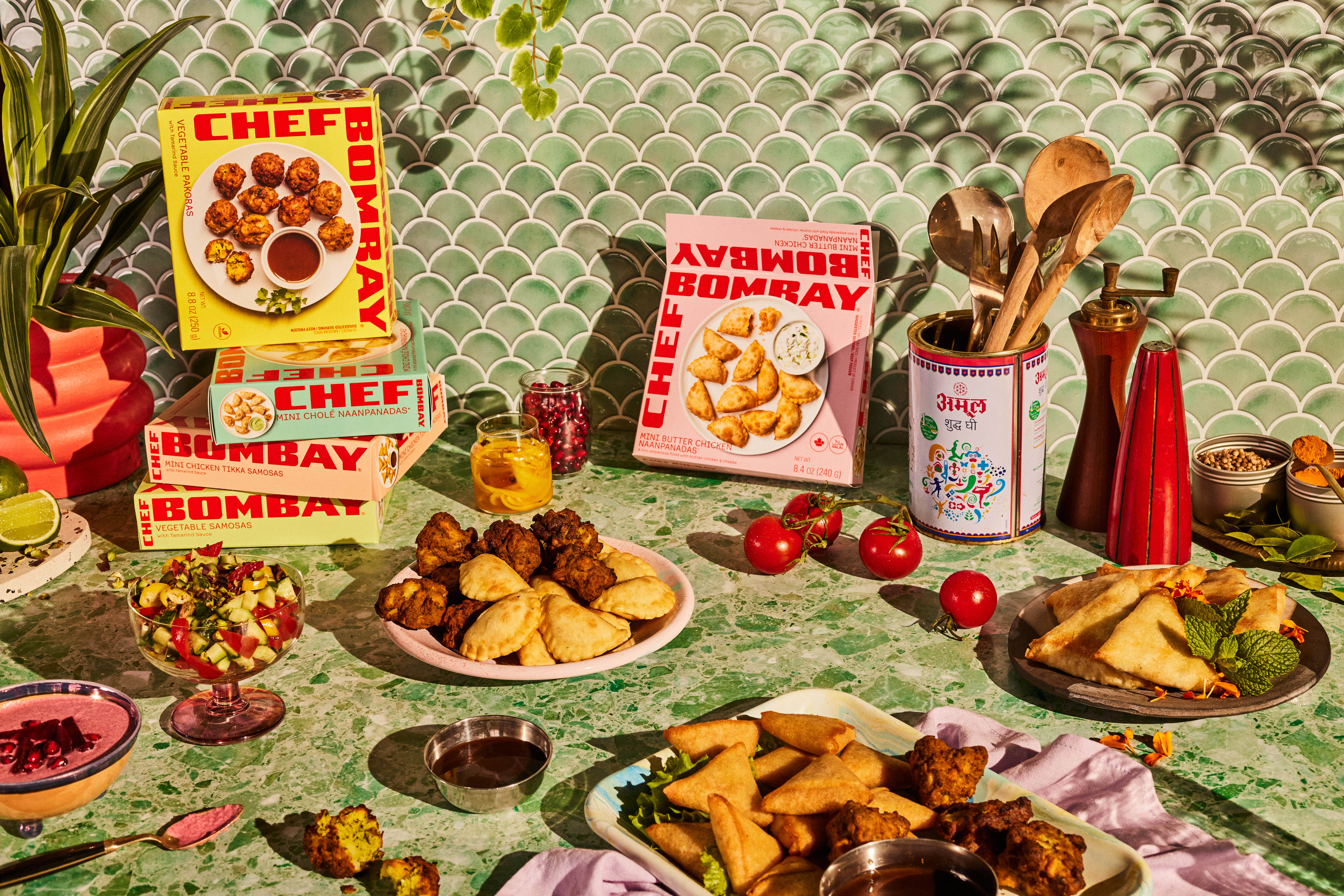 Indian snacks are renowned for bold flavors, aromatic spices, and intriguing textures. Whether you're indulging in crispy samosaS or mouth-watering pakoras, one element that can take these snacks to the next level is the accompaniment of a homemade chutney or dip. Let's explore the art of pairing chutney with your favorite frozen Indian snacks and how they can elevate your culinary experience.
Chutney with Indian Snacks
Chutneys are integral to Indian cuisine, serving as flavorful and tangy condiments. Fun fact: Indians can and will pair chutneys with almost everything, including as a spread on your breakfast toast. Chutneys add a burst of taste and complement the spices and textures of Indian snacks, like Chef Bombay Mini Chicken Tikka Samosas, perfectly. From sweet and spicy to tangy and refreshing, chutneys enhance the dining experience. Ultimately, they act as a balance to the rich and robust flavors.
While store-bought chutneys are convenient and can be purchased at grocery stores like Walmart, nothing beats the freshness and flavor of homemade chutneys. By making your chutney at home, you can experiment with various ingredients and tailor them to suit your preferences. Plus, it's a great way to use up leftover herbs, fruits, and vegetables, reducing waste and promoting sustainability (go Earth).
Must-Try Chutney and Dip Combinations
Mint and Coriander Chutney
Something that pairs well with literally everything. This vibrant and refreshing green chutney is a classic accompaniment to Indian food. You can either combine with your frozen Indian TV dinners or snacks or drizzle some of it over some chopped onions and pair it with your favorite curries and biryanis. It combines fresh mint leaves, coriander, green chilies, ginger, and lemon juice for a tangy and herbaceous kick. So grab your favorite Chef Bombay product and try it out asap!
Tamarind Chutney
Tamarind chutney perfectly balances sweet, tangy, and spicy flavors. This chutney adds a delightful sweet and sour note to your snacks, made with tamarind pulp, jaggery, and a blend of spices. Chef Bombay actually includes a tamarind sauce (that is made following a family's generations-old recipe) in products like Vegetable Samosas.
Yogurt-Based Dips
For a creamy and cooling dip, yogurt-based chutneys are a fantastic choice. Whisk together yogurt, grated cucumber, mint leaves, roasted cumin powder, and a pinch of salt to create a refreshing dip that complements the heat of spicy snacks. You can even create your homemade yogurt-based dips from scratch and pair it with a classic biryani or bring down any curry's spiciness. Here is an easy Raita recipe.
The Health Benefits of Homemade Chutneys
Homemade chutneys and dips offer not only fantastic taste but can also offer numerous health benefits. They are packed with antioxidants, vitamins, and minerals derived from fresh herbs, fruits, vegetables, and spices. Chutneys can aid digestion, boost immunity, and provide a nutritious alternative to high-fat or sugary condiments. By making your chutneys, you can ensure they are free from preservatives and artificial additives.
Elevate your Indian frozen food experience with homemade chutneys, healthy dips, and Chef Bombay. Experiment with various flavors and combinations to find your favorite pairings. Whether you prefer the tanginess of tamarind chutney, the freshness of mint and coriander, or the creaminess of yogurt-based dips, homemade chutneys will take your snacks to new heights of flavor. Enjoy the authentic taste of Indian food while embracing a green and healthy approach to dipping!