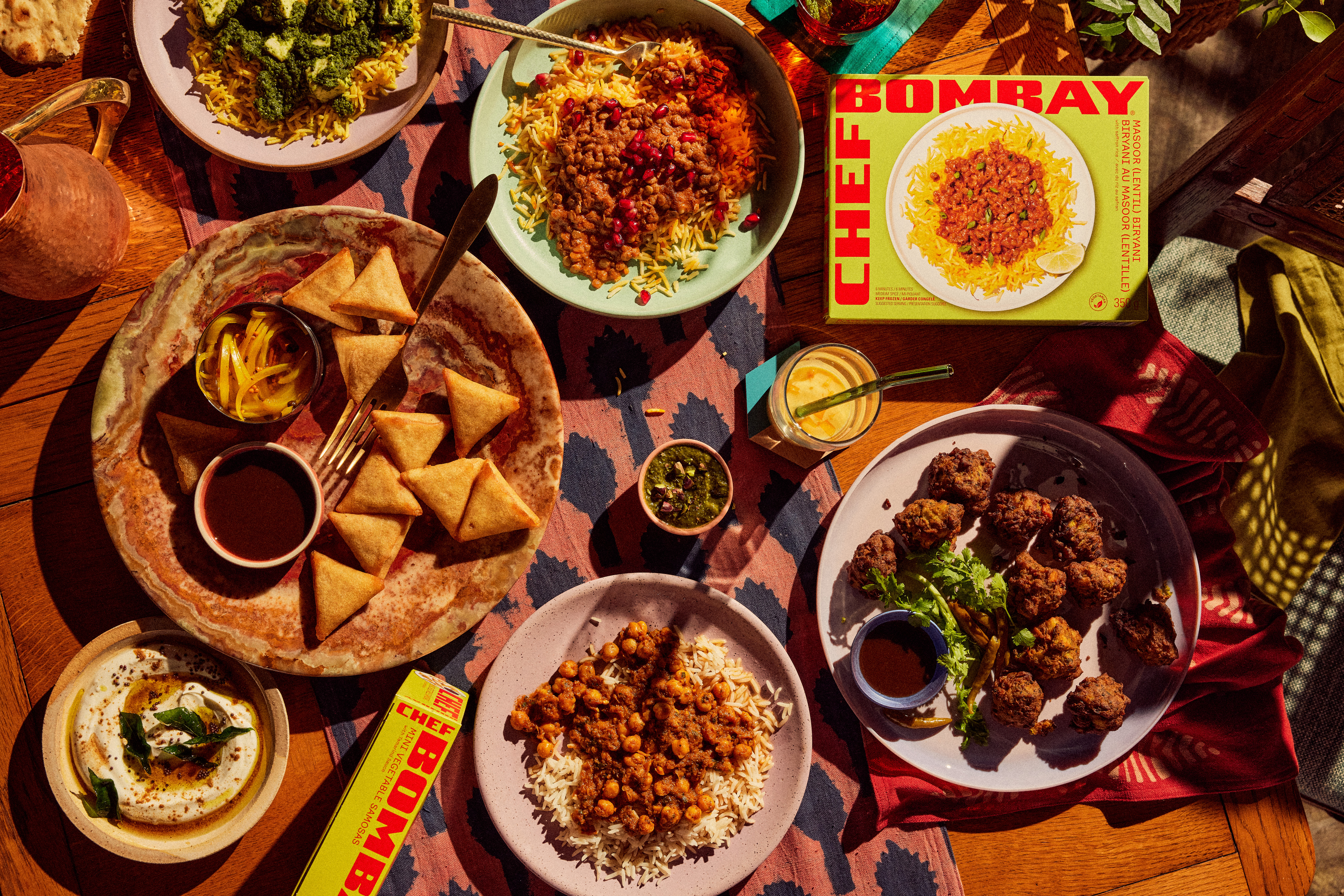 Craving the savory taste of Indian cuisine but finding yourself short on time and daunted by the myriad of ingredients needed to make it from scratch at home? Chef Bombay, the leading brand in frozen Indian food in the United States, has your back. Our commitment to quality, tradition, and authenticity guarantees a range of frozen Indian foods that capture the true essence of Indian cuisine. After all, we did create the products you can find on grocery store shelves using our family's generations old recipes!
Butter Chicken with Basmati Rice
When it comes to Indian cuisine, Butter Chicken reigns supreme, especially in the United States. Chef Bombay's Butter Chicken with Basmati Rice is "a masterpiece," as some say. Our Butter Chicken dish features tender pieces of chicken simmered in a rich and creamy tomato-based sauce and infused with aromatic spices. This popular dish perfectly balances savory and medium-spiced flavors, leaving your taste buds craving more. Whether you're a seasoned fan of Indian food or a newcomer to its wonders, Chef Bombay's Butter Chicken is a great option to have lunch or dinner.
Chef Bombay Butter Chicken Reviews in the United States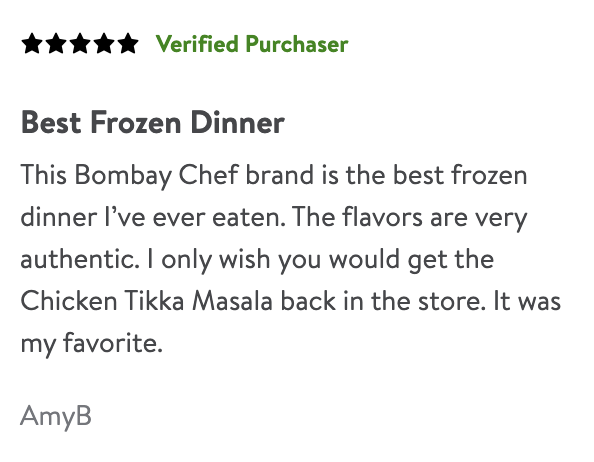 On Walmart, Chef Bombay Butter Chicken has a rating of 4.3 out of 5, making it one of the top rated and best frozen Indian food dishes is the United States. In addition to Amy's five star review in the photo above, here are a few more:
Sooo good
Spices and overall flavor is amazing. Chicken is tender but it is slight spicy. I love spicy and everything paired well – LaLa
In shock
I NEVER review anything, but this is absolutely delicious! Tastes like takeout instead of frozen, a little spicy like Indian food should be. SO good – Lillian
VEGAN Crispy MINI Vegetable Samosas
No Indian meal is complete without the classic appetizer, samosas. Chef Bombay's VEGAN Mini Vegetable Samosas include a blend of spiced potatoes, peas, and onions, enveloped in a crispy pastry shell. With just one bite, you'll experience a burst of flavors you will never forget. These vegan samosas make for a perfect snack, appetizer, or lunch, whether entertaining guests or simply enjoying at home while bingeing your favorite show.
Chef Bombay Mini Vegetable Samosa Reviews in the United States

United States shoppers have tried and rated Chef Bombay's vegan, crispy Mini Vegetable Samosas 4.5 out of 5 on Target's website. Target guest shoppers rated the Mini Vegetable Samosas a 4.5 in terms of taste and 4.8 in terms of quality. A whopping 92% would recommend these samosas to others. With such high ratings, Chef Bombay's samosas are considered among the best frozen Indian food in the United States. Check out a few of the reviews below.
10/10
These are so addicting, the flavor is unmatched it's hard to have to share these. The sauce is the perfect compliment to these amazing crispy samosas. Wish they came in a larger count
A must buy!
Absolutely DELICIOUS! The taste is fantastic and authentic. Crisps up perfectly and easily can eat an entire box. The Tamarind sauce it comes with is spicy vinegary so I don't use it with the Samosas. I use it with Mambo sauce instead and it's just out of this world.
The icing on the cake? You can now have the same authentic taste of the dishes you know and love without hours of cooking, thanks to Chef Bombay. We combine authenticity, taste, and flavors so you can taste tradition at home, where ever you are in the United States, without the hassle. Use our store finder to locate a retailer near you that carries the best frozen Indian food in the United States.
When it comes to frozen Indian food, Chef Bombay stands out as the go-to brand in the United States. With our commitment to quality, authentic flavors, and convenience, Chef Bombay brings the rich flavor of Indian cuisine to your table. Whether indulging in our famous Butter Chicken (as seen by many on TikTok and Instagram) or savoring the crispy delight of our Vegetable Samosas, you're guaranteed a culinary experience that will have you coming back for more.