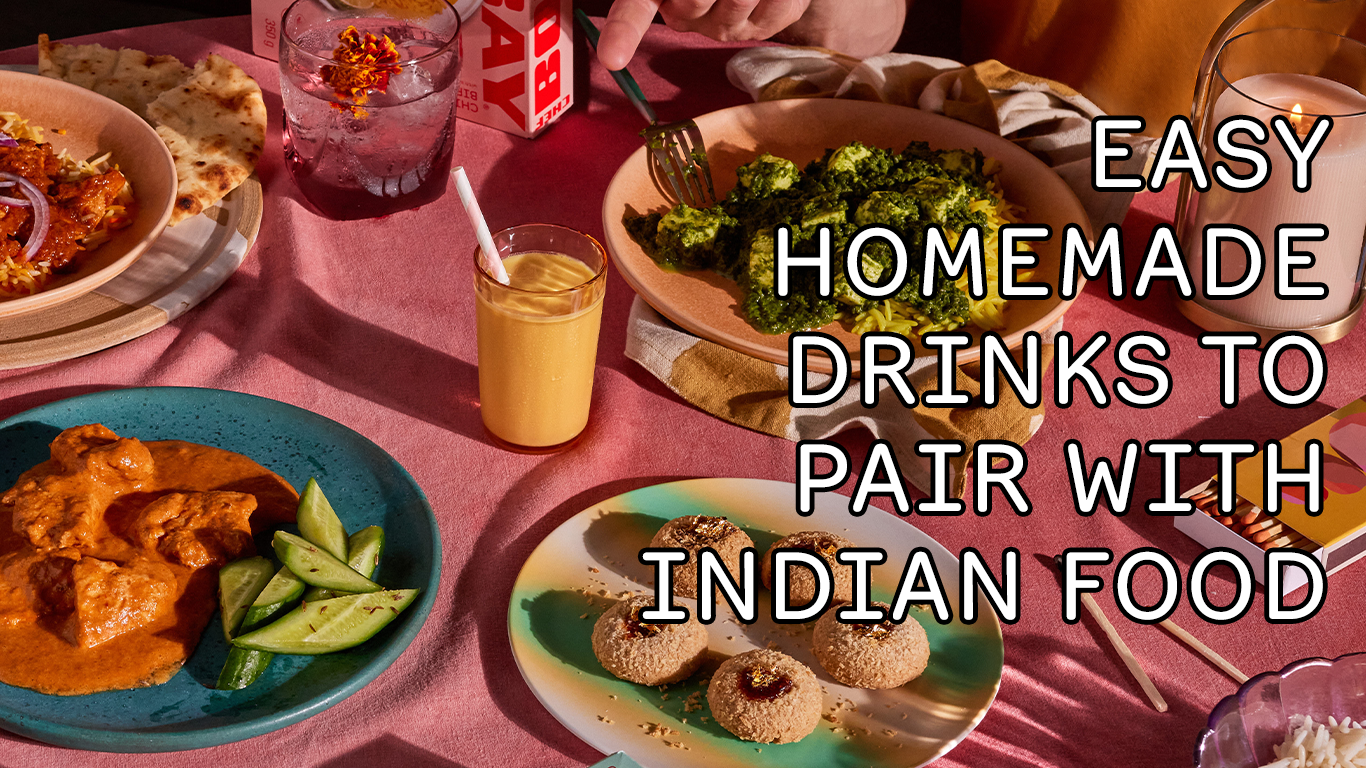 I think we can all agree that beverages are the key to completing and complementing a nice meal, whether it is a cold iced drink on a summer afternoon with brunch, a hot chocolate on a cold night, a glass of French wine with dinner, or a soothing cup of masala chai on a chill, rainy day. When it comes to Indian food, there is a beverage to complement and pair with every dish and snack.
Let's take a look at the Indian beverages you can make at home best to complement your favorite frozen Indian foods from Chef Bombay!
Top Homemade Drinks to Pair with Indian food






View this post on Instagram





Masala Chai
Starting off strong with a household staple, we have Masala Chai! This aromatic blend of tea, milk, and spices epitomizes comfort. Pair it with our crispy Mini Chicken Tikka Samosas or Vegetable Pakoras for a match made in heaven (extra points if you can get it to rain too). The bold flavors of Masala Chai perfectly complement the savory indulgence of these classic Indian snacks.
To make your own chai drink easily at home, you can follow this simple Masala Chai recipe.






View this post on Instagram



Mango Lassi
You think Indian food, and there's no way you don't think of mangoes. They go with everything! Quench your thirst and satisfy your taste buds with the divine Mango Lassi. The creamy goodness of yogurt and the sweetness of ripe mangoes create a crave-worthy combination. Enjoy it alongside our scrumptious Chicken Biryani for a delightful burst of flavors that transport you to a tropical paradise.
Here's the homemade Mango Lassi recipe to make this delicious drink at home.
Nimbu Pani (Indian Lemonade)
When it comes to refreshment, Nimbu Pani reigns supreme. Its zesty and tangy flavor is ideal for our Palak Paneer or Vegetable Pakoras. The citrusy punch of Nimbu Pani perfectly balances the rich and spicy notes of these Indian food favorites, leaving your palate refreshed and satisfied.
Follow this easy homemade Nimbu Pani recipe to make a refreshing drink to enjoy with your next Chef Bombay meal.
Chaas (Spiced Indian Buttermilk)
Experience a cooling sensation with Chaas, the savory Salted Lassi: this light and refreshing drink pair with our medium-spiced Beef Vindaloo. The soothing qualities of Chaas help tame the heat of the spices while enhancing the overall dining experience.
See how to make this delicious homemade Chaas drink at home.
Aam Panna (Raw Mango Cooler)
Another delectable mango delight! As you savor our famous Chana Masala, embrace the tangy delight of Aam Panna. Made from raw mangoes, this cooler adds a burst of flavor that wonderfully contrasts the rich and spicy curries. It's the perfect balance of sweet and tangy.
Here's how to make a tangy homemade Aam Panna, also known as a raw mango cooler, at home.
Thandai
Unleash the festive spirit with Thandai, a traditional drink often associated with the vibrant Indian festival of colors, Holi. Our Thandai pairs impeccably with the flavors of our Chicken Tikka Masala. The nutty and spiced essence of Thandai adds a layer of depth to your meal, creating a truly memorable meal.
Follow our favorite recipe to make a Thandai drink at home.
Jaljeera
Enhance your dining experience with the vibrant flavors of Jaljeera. This tangy and spicy drink complements the hearty flavors of our Butter Chicken. The zingy notes of Jaljeera elevate the taste of the curries, creating a harmony that lingers on your palate.
Make Jalijeera homemade with a few ingredients to pair with Chef Bombay Butter Chicken entree for your next meal.
Grab your favorite box of Chef Bombay's frozen Indian food, whip up a delicious homemade beverage to go with it, and enjoy your dining experience! Find Chef Bombay frozen Indian food retailer near you.