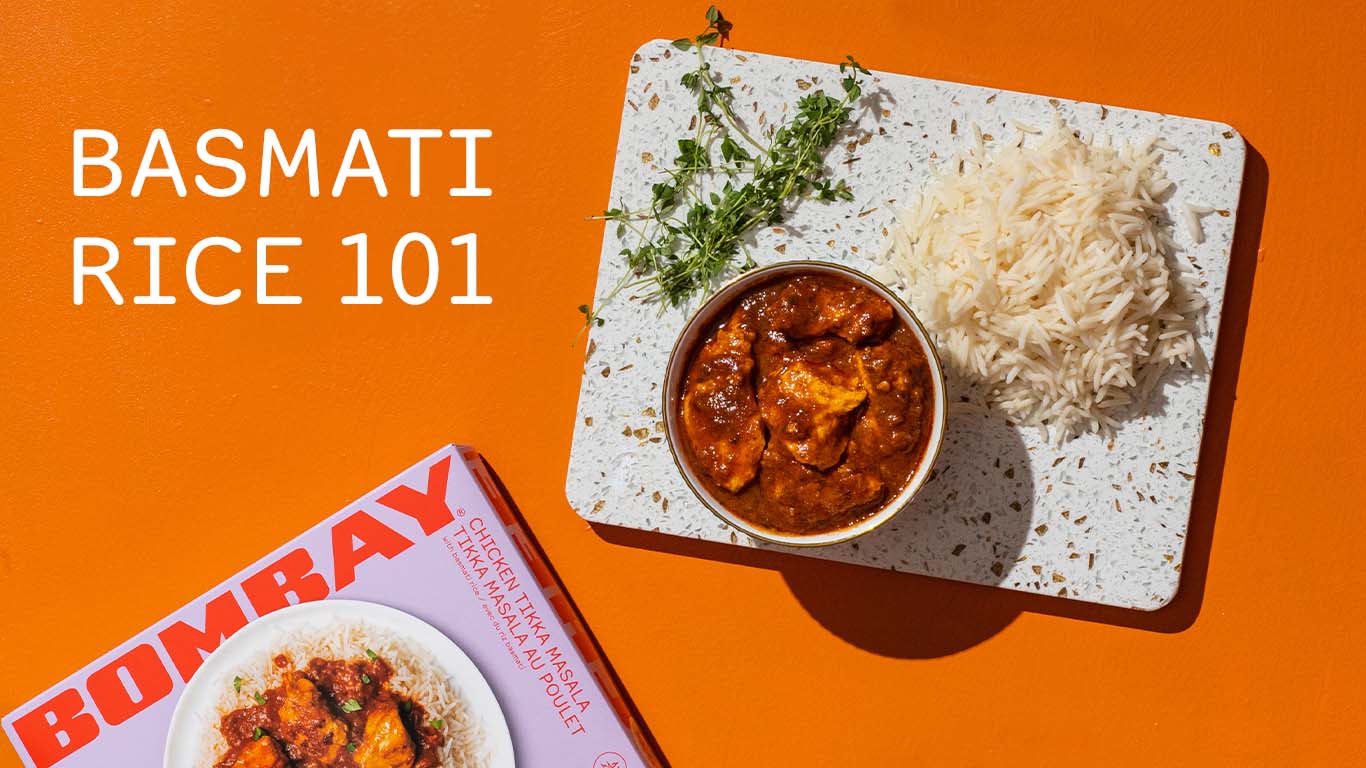 Basmati rice is best known for its long, slender grains and enchanting aroma. While Basmati rice comes from the Himalayas in northern India and Pakistan, some varieties grown in the U.S. (but the are known for not being quite as good as the imported varieties). We've put together a guide for everything you need to know about Basmati rice, a 101 guide if you will. Let's dive in!

What exactly is Basmati Rice?
Basmati rice is a long-grain rice variety that is primarily grown in the Indian subcontinent. It is renowned for its unique aroma, delicate texture, and distinctive flavor. The word "basmati" is derived from the Sanskrit word "vasmati," which means "fragrant."
Some of its main characteristics include:

Grain Length
Basmati rice grains are long and slender, typically measuring about 6-8 millimeters in length. The elongated grains remain separate after cooking, giving the rice a fluffy and light texture.

Aroma
One of the defining features of basmati rice is its enticing aroma. It is often described as nutty, floral, and slightly sweet. The fragrance is released during the cooking process and can fill the kitchen with a delightful scent.

Texture
Basmati rice has a delicate and tender texture. When cooked properly, the grains are firm but not mushy, with a slight springiness to the bite. This texture makes it an ideal choice for pilafs, biryanis, and other rice-based dishes.

Flavor
Basmati rice has a distinct flavor that complements a wide range of cuisines. It has a subtle nutty taste with a hint of sweetness, which pairs well with various spices and ingredients.

Varieties
Basmati rice is available in different varieties, each with its own unique characteristics. The most common types include Traditional Basmati, Pusa Basmati, 1121 Basmati, and Super Basmati. These varieties may vary in terms of grain length, aroma, and cooking properties.

Cultivation of Basmati Rice
Basmati rice is traditionally grown in the fertile plains of the Indian subcontinent, particularly in India and Pakistan. The specific climatic conditions, including the soil type, temperature, and humidity, contribute to the unique qualities of basmati rice.

When purchasing basmati rice, look for reputable brands or sources that ensure quality and authenticity. Chef Bombay is dedicated to only using the highest quality ingredients in their products. That includes the Basmati rice in many of their popular products. For example, Butter Chicken, Beef Vindaloo, and Chicken Tikka Masala.
nutritional profile of Basmati rice
Basmati rice is a nutrient-rich grain that provides essential vitamins, minerals, and dietary fiber. Here's a breakdown of its nutritional composition per 100 grams:
Carbohydrates: Basmati rice primarily consists of carbohydrates, which serve as a crucial source of energy. It contains complex carbohydrates, including amylose and amylopectin, which are digested slowly, promoting sustained energy release.

Protein: While basmati rice is not a significant source of protein, it still contains a moderate amount. Protein is essential for tissue repair, growth, and overall body function.

Fiber: Basmati rice is a good source of dietary fiber, which aids in digestion and helps maintain a healthy digestive system. Fiber also promotes a feeling of fullness, potentially assisting with weight management.

Vitamins: Basmati rice contains various vitamins, including B vitamins such as thiamine (B1), niacin (B3), and vitamin B6. These vitamins play vital roles in energy metabolism, nervous system function, and the production of red blood cells.

Minerals: Basmati rice is rich in minerals like magnesium, phosphorus, and potassium. Magnesium contributes to bone health, while phosphorus plays a role in the formation and maintenance of healthy teeth and bones. Potassium is crucial for proper heart and muscle function.
Looking for an easy way to enjoy Basmati rice? Head to your local freezer aisle to grab a Chef Bombay entree with Basmati rice. Use our handy store finder here.